Swift Currie Adds 7 Attorneys in Atlanta and Birmingham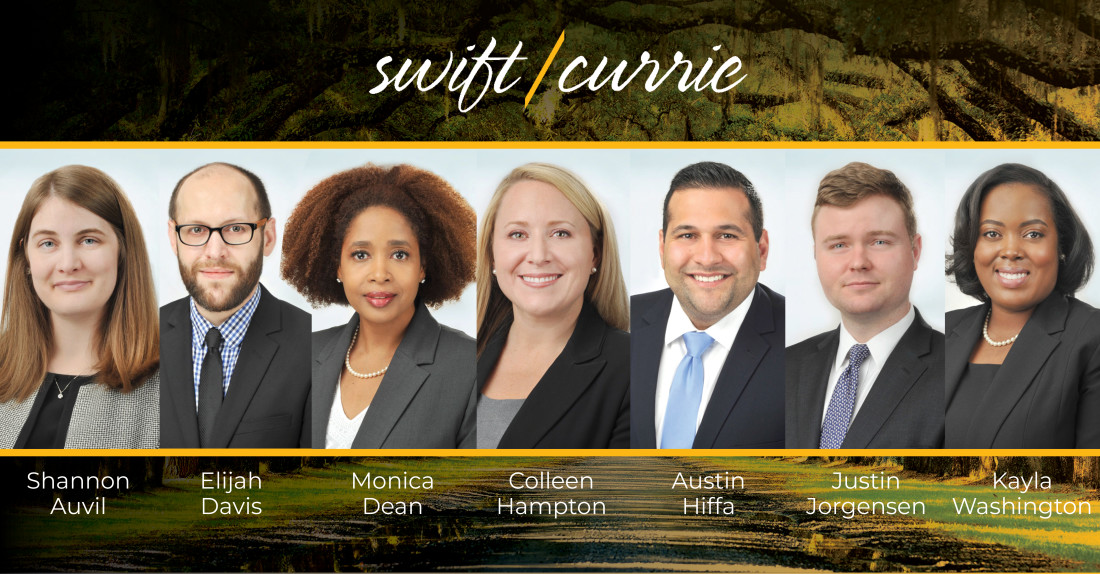 Swift, Currie, McGhee & Hiers, LLP, announces seven new attorneys joined the firm in October and November 2019. The additions include attorneys Shannon Auvil, Elijah Davis, Monica Dean, Colleen Hampton, Austin Hiffa and Justin Jorgensen in the Atlanta office, and Kayla Washington in Birmingham. With today's announcement, the firm has added 26 new attorneys so far this year after adding 45 new hires in 2018, bringing the firm's headcount to more than 150 attorneys.
"We are grateful to be in a position to continue growing with talented litigators, like these seven associates, as our clients' needs for outstanding legal counsel is equally on the rise," said Terry Brantley[1], managing partner at Swift Currie. "We have experienced tremendous growth over the past three years, and our lawyers' diverse and extensive experience allows us to continue providing effective solutions to the broad range of litigation challenges facing businesses in the Southeast and around the country."
Shannon Auvil[2] joins Swift Currie's litigation practice defending companies involved in premises and products liability matters, as well as insurance coverage issues. Before joining Swift Currie, Auvil served as a law clerk to the Honorable Michele J. Kim in the U.S. Bankruptcy Court for the Southern District of Georgia. During law school, she worked as a legal intern for the U.S. District Court for the Northern District of Alabama and the U.S. Army Legal Services Agency. Auvil earned her undergraduate degree from the University of Alabama and her law degree from the University of Alabama School of Law, where she was executive editor of the Alabama Civil Rights & Civil Liberties Law Review.
Elijah Davis[3] joins Swift Currie's workers' compensation section, concentrating his practice on the defense of employers, insurers and third-party administrators throughout various stages of workplace injury claims. He brings experience conducting claimant and expert witness depositions, negotiating claim settlements, drafting motions and briefs for submission to the State Board of Workers' Compensation and representing clients at administrative hearings before the State Board of Workers' Compensation. While attending law school, Davis was a student attorney and graduate research assistant for Georgia State University's Philip C. Cook Low-Income Taxpayer Clinic. He received his undergraduate degree from Kennesaw State University, MBA and MHA from Georgia State University J. Mack Robinson College of Business and law degree from Georgia State University College of Law.